Non-Moving Crack Repair in a Corner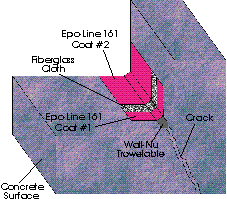 Step 1: After the surface is cleaned, apply Wall-Nu Trowelable (filler) to the corner using a 1-1"putty knife.
Step 2: In order to obtain a smooth, rounded corner, use a 1" PVC pipe, wet the end of the pipe with water, and run along the corner, smoothing the Wall-Nu Trowelable and creating the rounded cove.
Step 3: Mix a 2 gallon bucket of Epo-Line 161 in a 5 gallon bucket, the pour that mixture into a second 5 gallon bucket (be sure to scrape the sides and bottom of the first bucket to remove all unmixed material). Mix the contents in the second bucket for a period of 3 minutes minimum. (This will ensure a complete mix of the material and will not leave soft spots in the floor or wall coating.)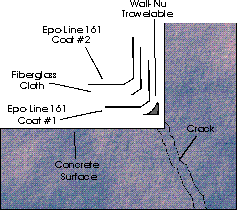 Step 4: Apply one coat of Epo-Line 161 using a nylon loop paint roller. The Epo-line 161 must be applied within 16-24 hours of the Wall-Nu Trowelable application. Any additional time will require the Wall-Nu Trowelable to be sanded in order to obtain proper adhesion of the Epo-Line 161. A nylon loop paint roller may be purchased from a building supply store, Wal-Mart, K-Mart, or similar store.
Step 5: While the first coat of Epo-Line 161 is still wet, work in the fiberglass cloth with the roller until the Epo-Line 161 has soaked through the cloth, overlapping the cloth at all splices. It is strongly suggested that you have the fiberglass cloth cut to follow the crack in advance. It is important to work in the fiberglass cloth before the Epo-Line 161 "sets up".
Step 6: After about 4 hours (at 75 degrees Fahrenheit minimum), apply the second coat of Epo-Line 161 on top of the first coat and fiberglass. Allow 48 hours to dry. Final cure is expected in approximately 7 days at 75 degrees Fahrenheit.
Approximate Cost: $1.20-$1.45 per foot.


Cool Temperature Application of Epo-Line 161
If application of Epo-Line 161 is difficult due to cool concrete (75 degrees Fahrenheit or less), thin Epo-Line 161 up to 10% with T-100 Thinner. Do not thin more than 10%.
Product should be kept in a warm area (75 degrees Fahrenheit or above) for a minimum of 24 hours prior to application).
Click here to return to EpoSeal Table of Contents